I've never liked Rugged Wearhouse. To me, its always looked a little sketchy with its handwritten signs and abundance of incredibly unclassy attire. But after a few successful shopping experiences such as the one from two days ago, I've had a change of heart. And as of today, I absolutely love it. A rack of Anthropologie dresses can do that to a person.
I purchased three dresses, and I looked them up online when I got home and found their original retail prices. As it turns out, all three dresses together are worth $498. I may or may not have gotten all three for $60 total. :) Here they are: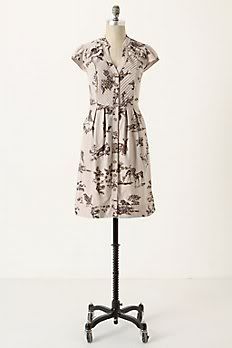 Southward Stop Dress by Maeve.
Cascading Foliage Dress by Anna Sui


Traversing Dress by Moulinette Souers
(Image credits to Google Images)
I am so so so excited about these finds. The first one has a really unique print with sparrows and deer on it, and the last one has eyelet cutouts and the back has a cute button up detailing.
Here's the catch...the reason why these gorgeous dresses ended up in a discount store. First of all, these are all last season (which makes no difference to me). Also...
The first one I purchased has what seems to be an accidental cut on the right sleeve (can be easily sewn/fixed).
The second one has two small inkspot stains near the bottom of the dress, but they're both unnoticeable because they're on the lining layer.
With the third dress, the scarf belt was missing. But to be honest, I actually like it better without the belt.
So there we are. My best good deals ever (at least to this day).
I actually got a couple of other things, at Rugged as well as Goodwill. But we'll get to that another day. This is enough excitement for one day, right?